Please add `Share window` option to the list in the panel
Should a Share window option be added to the list in the panel?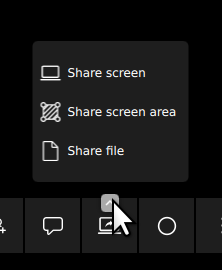 It might make a better UX.
There would be 4 options then in the image above, i.e.:
Share screen
Share screen area
Share window
Share file
What do you think?
Thank you
jami-project#1294 (comment 32291)
cc: @agsantos
To upload designs, you'll need to enable LFS and have an admin enable hashed storage.
More information